Detoximix presents its air purifier with ionizing effect and UV-C lamps to fight against: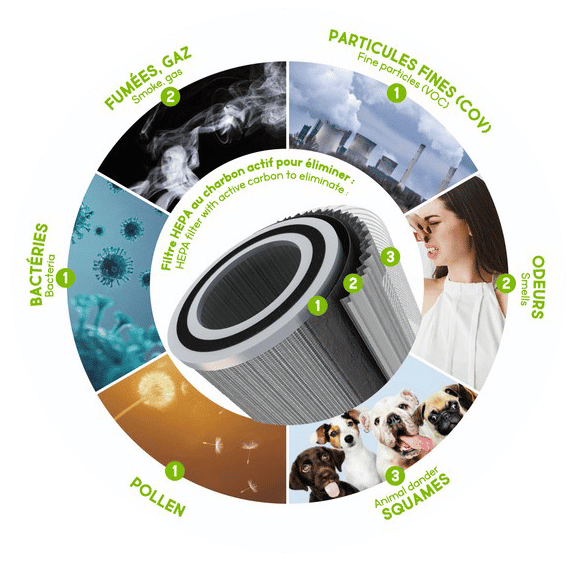 Air purifier with HEPA 13 activated carbon filter, ionizer and UV-C disinfection lamps
Choosing an air purifier incorporating a filtration system means choosing a high-performance, complete and efficient solution that contributes to your daily well-being in all seasons.
Effects of Detoximix air purifier
The Air Purifier is equipped with an ionization system which diffuses negative ions thus contributing to the elimination of fine particles from your room by making them heavier. The HEPA filter purification system associated with activated carbon will, for its part, capture fine particles (VOCs, formaldehyde, etc.) as well as gases, fumes, germs, bacteria, etc. in order to eliminate them and purify the air. ambient. The Air Purifier is equipped with 2 UV-C lamps which by their internal radiation kill germs, bacteria, microbes and fungi and sterilize your air.
Microparticles (99% of fine PM2.5 particles measured according to their particle size) – Odors – VOCs (Volatile Organic Compounds) – Dust, Pollen – Bacteria, Germs, Fungi, Microbes – Smoke – Gas.
How air purifier works: the Detoximix air purifier
HEPA filter wear indicator
360 ° filtration system for sanitation
air surfaces up to 20m²
HEPA H13 Active Carbon Filter
Ionizer
UV-C lamp
Quiet< at 40dB
Night mode & silent system
<40dB
Compact & Design
Multifunction remote control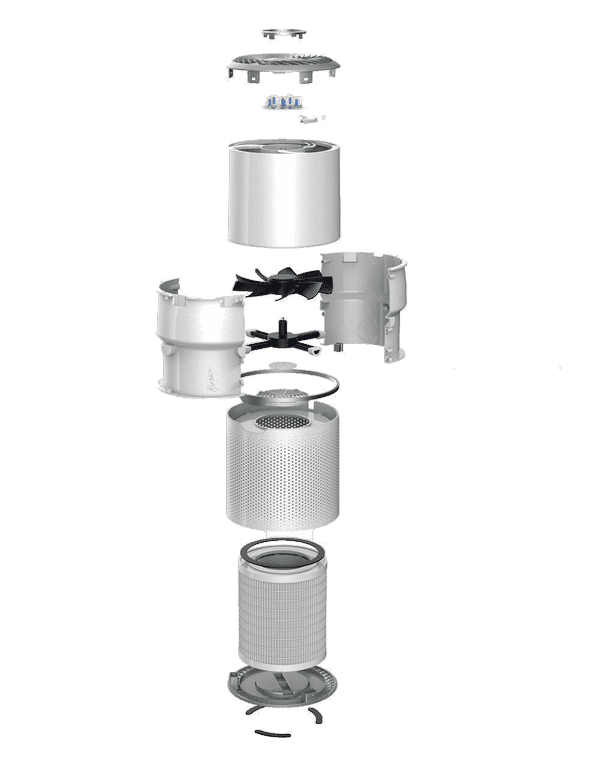 Dimensions (HxWxD in mm): 380 x 200 x 200
Product weight: 2.1Kg
Packaged weight: 3Kg
Power supply: 220-240V
Consumption: 12W (12V 1A)
Sound level (dB): High 40dB (3m / s) – Medium 28dB (2.5m / s) – Night mode 25dB (2m / s)
Max surface: 20m² (150m3 / h)
Technology: HEPA 13 particle filter + Activated Carbon
Number of speeds: 3 (Mid – Max – Night)
Filtration of odors and microparticles: Yes
Functions: ionizer (negative ions up to 30Millions) + 2 UV-C 1W lamps
+ filter replacement indicator + remote control.