Detoximix presents the Heating Blender
The new DETOXIMIX heating blender is above all an invitation to "homemade" so as not to neglect the act of cooking so simple, fast and always healthier and virtuous than the ready-made. The heating Detoximix Blender is made for everyone: Vegans, Vegans, Vegetarians, Carnivores, Locavores but also and especially for those who decide to take control of their diet by consuming creatively fresh and authentic foods and preparations. Barely more imposing than a bottle of mineral water, it takes up little space and can be easily taken with you.
Detoximix vous offre 1 infuseur à fruits + 1 Infuzee + 1 entonnoir pour l'achat du nouveau Blender chauffant !!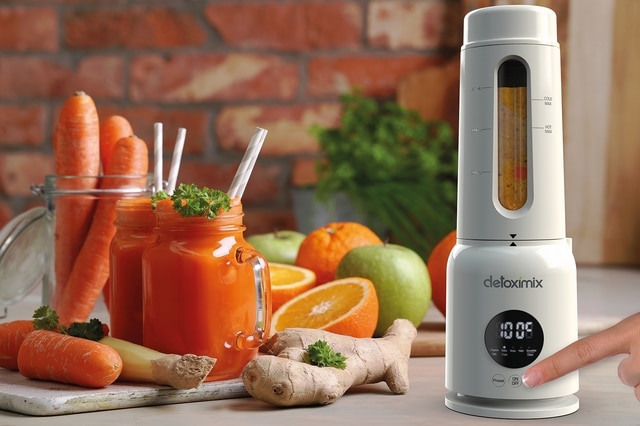 The heating blender is equipped with:
Thanks to the heating blender you will be able to:
R

Réaliser des préparations chaudes en mode « Vegetal Milk » - « Baby Food » ou « Soup »

R

Réchauffer ou cuire en mode « Heat »

R

Réaliser des mixages ou nettoyer votre produit en mode « Smoothie-Clean »
Make hot preparations in mode:
« Vegetal Milk »
« Baby Food »
« Soup »
Reheat or cook in mode
« Heat »
Perform mixtures or clean your product in
« Smoothie-Clean »
1 motor base and its 4-sided blade unit
1 glass bottle 400ml
1 cap
1 cleaning brush
1 user manual and its recipes
Food Contact Compatible
BPA free (in accordance with regulations)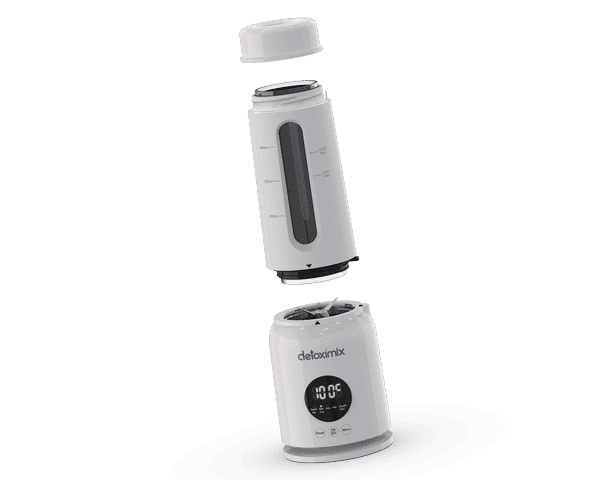 Product dimensions: Height 31.5cm Diameter: 10.5cm
Glass bottle capacity: 400ml
Weight: 1.270 kg (Detoximix assembled)